Nail art is a fun, low-cost way to express yourself. In this blog post, you will learn how to create zebra print nail art using only the available supplies at your local drugstore. This tutorial is perfect for beginners and those who don't have much time.
Hello everyone! I'm back with another easy tutorial for you all. This time, it's a fun pink and black zebra print manicure. It requires elementary nail shapes (square or rounded square-ish), perfect for beginners! You can even try this on your toes 🙂 If you like this design, please gimme a thumbs up and show me your recreations on Instagram!
DIY easy zebra-striped manicure
Zebra print nail art is easy to recreate and perfect for beginners. I'll walk you through the steps so that you can achieve this stunning look in no time!
Paint your nails with a base coat of white polish. Let dry completely.
Use black polish and a thin brush to paint stripes on each nail, making sure they're straight across from one another.
Start by painting all of your nails with one coat of black nail polish.
Once the black polish is dry, take a makeup sponge and sponge on some light pink polish over the top.
Add zigzag lines going up and down between the black strips, starting at the top left corner of your nail bed, then move right to the right bottom corner of your nail bed before moving back up again.
Next, use a striper brush or toothpick to create the zebra stripes. I'm using white nail polish for this step, but you could also use black striping polish. Make thin lines going in both directions on your nails.
Top everything off with a clear topcoat. I suggest speeding up your drying process! Now you're done 🙂
Finish off by adding two small dots using red polish as eyes near the tip of your nails.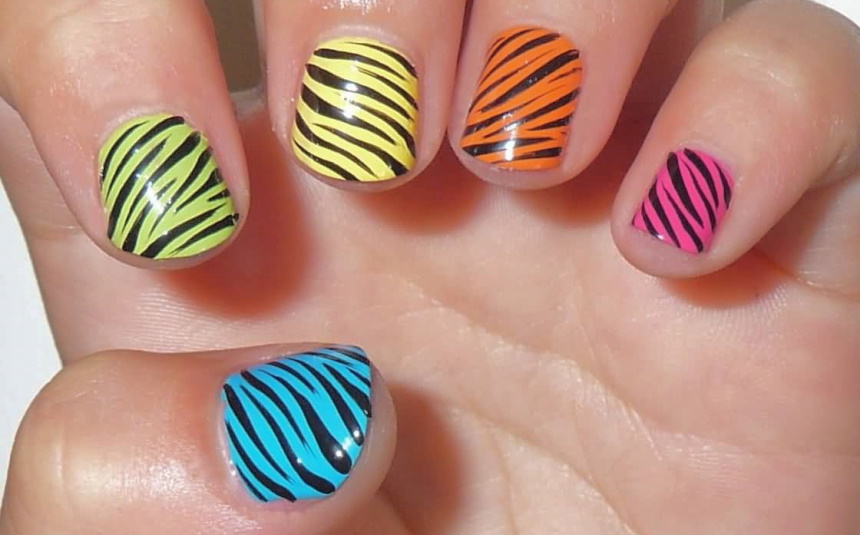 Achieve the look of a professional manicurist with this easy DIY zebra-striped manicure tutorial. You can have beautiful, trendy nails in minutes with just a few simple steps! Whether you're going for an elegant look or something more playful, these zebra stripes are sure to stand out. So grab your supplies and get started!